Friday, December 31, 2010
Saturday, December 25, 2010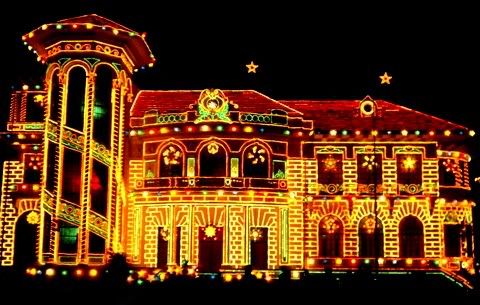 I arrived here in Iloilo last Saturday evening to spend the Christmas holidays with my family. I'm enjoying every second I have here with my family, relatives and my friends. So much has been happening for my first week of stay here for the Christmas break. The Christmas spirit can be felt strongly here in our province.
My best friend and ROTC buddy, Jericho, treated me pizza and pasta in Joey Pepperoni last Wednesday. He already has a job because he graduated earlier than me. We tried to update each other about what's new and all that. The manager of the pizza place was also very nice to us and constantly checked up on us. The pizza tastes great but I was so hungry that I ordered one more.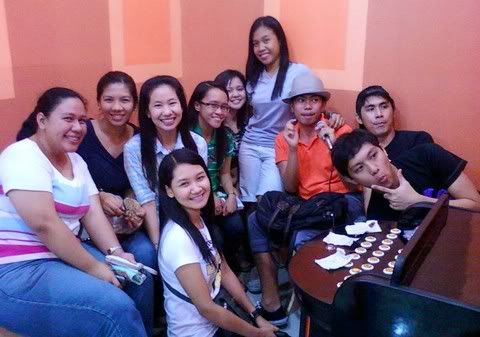 The following day, we had a high school Christmas reunion and a mini-despedida for one of our classmates. More than half of our class attended. We spent the time having conversations of what's new and talking about our class. I just listened most of the time. I didn't talk a lot. Anyway, we had dinner in one of the new hang-out places in Iloilo called Langford. We had pizza, pasta and lots of food. My classmates talked about a lot of things and even if I was just listening to them, I did enjoy hearing about what everybody has to say. High school humor was still very much present in the atmosphere.
On Christmas Eve, there were more than ten people in our house including me and my sisters. My manila cousins came as well as some of my Iloilo cousins from my mom's side. Mama and Mama Sef prepared so much food for our early
noche buena
. We had lots of ham, hot rice,
sotanghon
and chocolate cake. The house was so noisy in a happy way with our relatives around. Laughter filled the house as we enjoyed the food. My young cousins had a lot of fun at the dinner table and at our house's terrace.
On Christmas Day itself, we had a family lunch in my grandparents' place in Mandurriao, Iloilo City. It's my mom's family house. Papa brought
lechon (lechon
symbolizes prosperity), and my aunts prepared yummy food for all of us to eat. Mama and Mama Sef on the other hand brought some spaghetti. Compared to Christmas Eve, more people came to our grandparents' place. I swear I've eaten millions of calories in a span of one week with half of those calories coming from Christmas Eve and Christmas Day.
I've also been spending a lot of time on cyberspace this week. It was a fun time to be online too because social networking sites such as Facebook and Twitter were so active. Everybody had the spirit of Christmas in them. It was also convenient to greet my friends because of the online connections. I also received text message greetings from some people but I didn't reply to most of them because I don't have phone credits these days.
The holidays aren't over yet. I still have more than one week to spend here in Iloilo! Until next time guys!
Saturday, December 18, 2010
I spent my last night in Manila for this year participating in our university's annual Lantern Parade, going to the Team Antipolo Christmas party and dinner and spending the rest of the night with two high school classmates from UP High School in Iloilo, Alvin and Gian plus Gian's friends.
In this year's lantern parade, our department, the UP Department of Geography, were human red crayons. Everyone in the College of Social Sciences and Philosophy turned into crayons with different colors assigned for the different departments. My course mates had a lot of fun during the duration of the parade.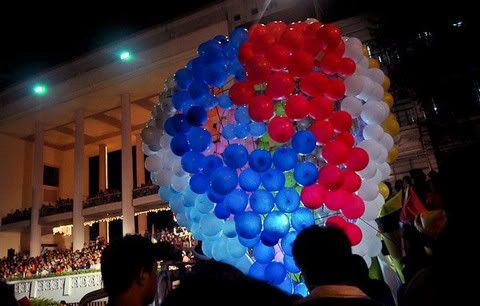 Team Antipolo had dinner in Cocina Juan in Maginhawa St. in Diliman after me and some teammates left the parade. The street is famous for having lots of good restaurants. Twelve out of the fourteen teammates arrived but we had some guests with us that night.
The food in the sais restaurant was really good. Our team had different kinds of pesto and pizza. Some arrived early while the others arrived at a later time but it's good to see that Team Antipolo remains close even after the 2009 summer field work. My teammates have become close friends of mine in Manila.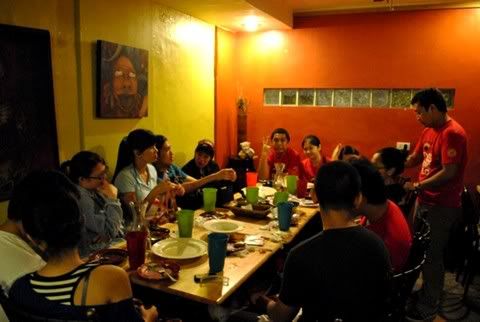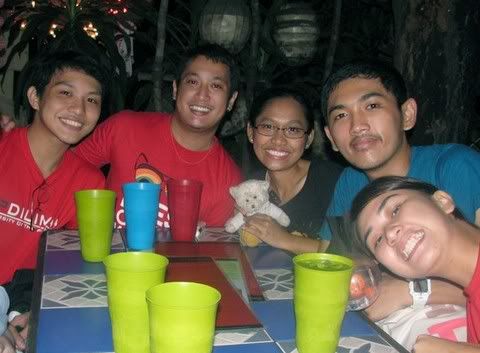 At around ten in the evening, I went to The Old Spaghetti House with Gian and Alvin. We also got to know Gian's friends Ana, Brye and Greg. At first I thought me and Alvin wouldn't mix well with Gian's friends but we did. They're nice people. It also turns out that Brye and Greg were former roommates of my cousin Ice.

It ws another round of food for me but this time it was spaghetti. We shared knock-knock jokes and had some pictures taken after our meal.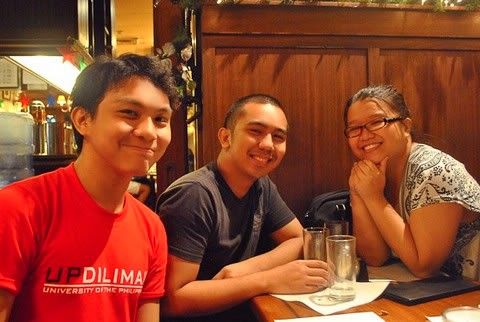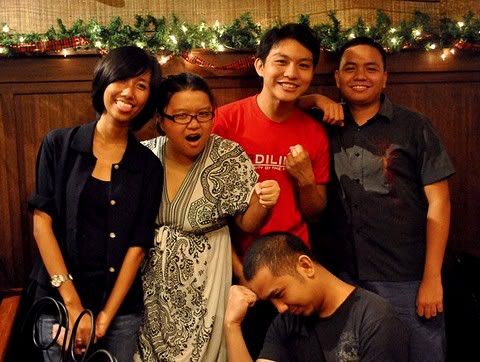 All in all I had a good day with teammates, friends and new people.

Now I'm back here in my hometown, Iloilo City, to spend the holidays with my family and friends here. But in a home away from home, thanks to everyone who celebrated Christmas with me in Manila.
Photos are from DJ and Ana