Last Friday, it was my first time to visit a coffee shop called Cafe Noriter in Taft. I went there with two other highschool classmates from UP High School in Iloilo. I was so happy about the cafe that I did a Tumblr picture search the moment I got back to my dorm. The cafe setting is very similar to a playground. As a matter of fact,
'noriter'
means
'playground'
in Korean. I checked out the interiors of the place and all i said to myself was,
"This is what my future coffee shop should look like."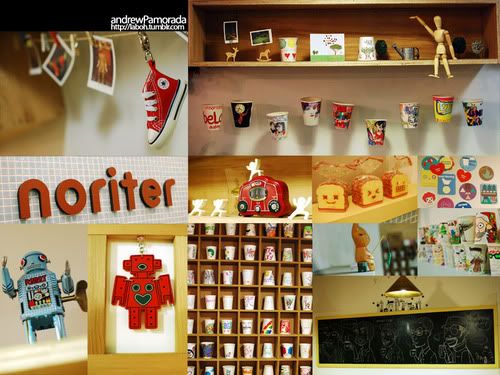 The shop had to close early when we were there because it was the summer vacation of the students from De La Salle University. We were the only ones left in the cafe until their early closing time, 8:30 PM. According to the bartender, Cafe Noriter normally closes around 10:00 - 10:30 PM. There were a lot of interesting and playful displays all around the cafe. I felt like I was back to being a kid again since I saw a lot of plushies and stuffed animals all over. There was even a large blackboard at the back which reminded me why blackboard paint is one of the coolest paints to remember buying when building your future house. Really, the entire place looked like a day care center -
only a hundred times cooler
. You can draw on the cups they display on the cafe. I actually drew on two of the paper cups.
In case you'll hang out in Cafe Noriter and see this cup pictured below, I was the one who drew on it.
I just wanted to draw a picture of an angel with his palms together while he floated on a fluffy cloud. I hope I'll be back in this cool cafe soon along with some of my friends from college. I'm very sure
my sister
would also love this place when she would visit it.
Too bad we weren't able to bring a digital camera. Three of the pictures I used in this post came from the following Tumblr blogs: itsyybitsyymitch.tumblr.com | yogurtberries.tumblr.com | laboh.tumblr.com